Part-Indicate-Value-Emotion
Map the product's element of emotion into "Part-Indicate-Value-Emotion"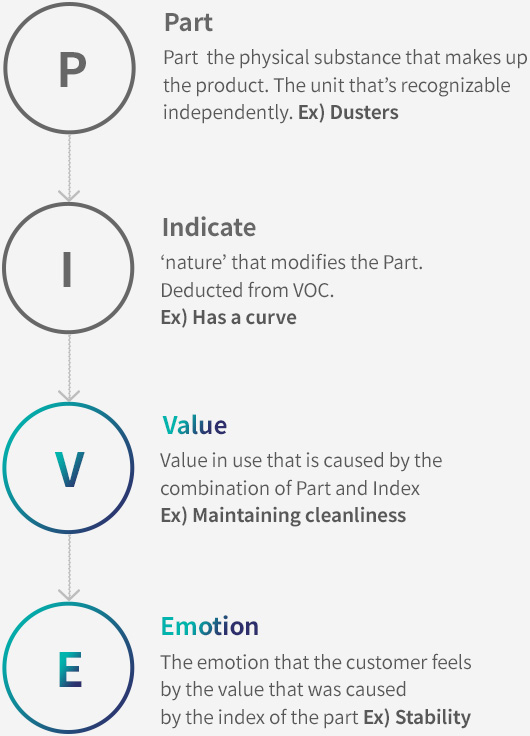 PIVE is a method to make a 'Concept Map' by organizing the customer's massive yet disordered opinions systematically.
While getting qualitative insights from the interview with the customers, it's easy to distort the customer's intention by interpreting them arbitrarily. It is especially important to distinguish whether the customer is talking about the feature of the product, or about what they are feeling.
By implementing a systematical map that distinguishes the customer's VOC (Voice Of Customer) into 1) part, 2) index, 3) value, and 4) emotion, we make it possible to understand the relationship between the product and the emotion.
Part

: the physical substance that makes up the product. The unit that's recognizable independently.

Ex) Dusters

Indicate

:  'nature' that modifies the Part. Deducted from VOC.

Ex) Has a curve

Value

:  Value in use that is caused by the combination of Part and Index

Ex) Maintaining cleanliness

Emotion

: The emotion that the customer feels by the value that was caused by the index of the part

Ex) Stability
"
You know, that circle thing, the handle.
It's really hard to grab and spin when you're doing laundry because it's slippery with the water.
Then it makes me think that they made it without thinking too much, you know?
That kind of little things are what makes it different for us, makes us feel like we're being cared for.

Dissolute the product's physical feature
into part and index structure

Dissolute the client's experience
into value and emotion structure
Product feature Map
with PIVE
By structure various results from IDI/FGW/Home Visit & HUD/ Eye-tracking/ iAHP & V-E Matching Test, we can get a holistic prospect that all of the customer's opinions are melted in.